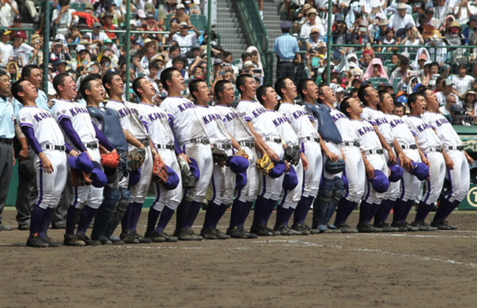 ども!!
( Hi. )
今年も甲子園が終わって、夏も終わったって感じっす。
( The high school baseball tournament at Koshien finished, end that calls end of summer. )
今年の夏、そして甲子園は最高だったなぁ。
 ( This summer and this Koshien have been awesome. )
なんせ地元の秋田、金足農業が準優勝!! しかも決勝に行った事自体が103年ぶりらしい。。。
( Because Kanaashi high school was 2nd place. It's in my hometown Akita. Akita advanced to the final for the first time in 103 years. )
東北にはまだ優勝経験がない、ましてや地元の秋田が決勝に行くなんて夢にも思っていなかったっす。
( Tohoke has not yet won first place. I never thought that Akita advance to final game. )
惜しくも準優勝。優勝は大阪桐蔭。大阪桐蔭、流石な感じでした!!
( The 1st place was Osakatoin high school. that was great. )
甲子園が終わって、報道や色んな事で賛否両論がありますが、、、間違いなく自分は興奮したし、沢山の感動と元気をもらいました!!
( Koshien was over. There are pros and cons of it. But, I was really exited and I was really touched by it. )
選手の方や関係者の方に大感謝です!!
( Thanks a lot for all players and the parties concerned!! )
これから選手の進路なんかも気になるとこですが、とりあえずはゆっくりして貰いたいっす!!
( I am interested their course after. But I want them that please relax for now!! )
お疲れ様でした!! そしてありがとうっす!!
( Great game everyone!! and Thank you!! )